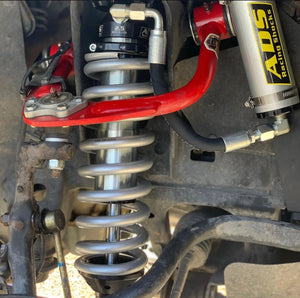 2005+ Toyota - Tacoma - 4Runner - 2WD / 4WD ADS Bolt On 2.5" Coil Over Shocks
Regular price
$2,090.00
Sale price
$2,200.00
Unit price
per
2005+ Toyota - Tacoma - 4Runner - 2WD / 4WD ADS Bolt On 2.5" Coil Over Shocks

On the road or on the trail, ADS Coil Over Racing Shocks are built to last a lifetime. Coil over, which is short for coil spring over shock, is simply a shock with a coil spring incorporated over the body.
A shock absorber works by converting kinetic energy into heat which is absorbed, and eventually dissipated by the shock fluid. In on road applications the shock shaft moves very little and as a result the heat created by the movement is minimal. In off road applications the shaft moves a greater distance and often at a greater rate. In these conditions the shock is generating a lot of kinetic energy and therefore a lot of heat. The strength of the material used to build the shock will dictate the longevity of the shock. By using the strongest materials and the finest fluids, ADS shocks are designed to serve customers for a very long time.
ADS coil over shocks are built using the some of the strongest materials available. For example, all ADS coil overs use a 7075 aluminum shock piston, which is more than twice as strong as 6061, to resist cracking and warping from the extreme heat generated by off road use. On ADS 3 Inch and larger diameter coil overs the shaft material is upgraded to induction hardened shafting with a hard chrome finish due to the extreme demands placed upon larger diameter shocks.
Here are some of the features that set ADS Coil Over shocks apart from performance series shocks:
Shock Body - Precision honed steel body which is zinc plated to prevent corrosion and ceramic coated for protection from the elements
Shock components-Billet 6061 aluminum parts with an anodize black finish, for greater strength than competitors' cast components.
Piston-Race - inspired 7075 hard anodized billet aluminum piston for superior strength.
Set screws allow for more precise tuning over various speeds of driving.
Wear Band - Teflon coated bronze with overlapping ends for cooler operating temperatures while maintaining positive seal.
Valving - Precision ground and stamped to ensure precise dampening control.
Shock oil - High Performance 10 weight shock oil providing greater temperature-viscosity stability, and resistance to foaming/cavitation.
Shaft - Hard chrome plated shaft has a large diameter for greater strength.
Shaft Seals-Proprietary rod seals for leak free assurance even under the extreme pressures of repeated hard hits.
Reservoir-Lightweight Air Cylinder Quality aluminum cylinder for heat dissipation and dependability.
Billet threaded caps to eliminate leaking, and prevent dirt and moisture contamination.
Nitrogen valve - Protective billet aluminum cap to eliminate damage or leakage.
Hose - High quality, large, steel lined, rubber hose for more efficient fluid transfer with o-ring seals on both ends.
Bearings - Large replaceable Teflon lined bearings, Made in the U.S.A, for outstanding durability.
Mounting - Billet stainless steel heim spacers with a captive design ease installation.
Spring Adjuster - Billet aluminum with releasable pinch bolt for ease of adjustment.
Coil-over threads - Standard pitch thread for precise thread engagement
Coil divider - Composite design with an extended neck for improved spring alignment.
Dual rate nuts - Allows a softer initial rate and a stiffer final rate control in various types of terrain.
Even the strongest shocks will need to be rebuilt from time to time. ADS shocks can be completely disassembled using basic hand tools and ADS offers replacement parts and accessories so that shocks can be rebuilt, upgraded, or revalved, at home.
Installments in partnership with
---
Share this Product
---